Billy the Kit: Fist Full of Fire Volume #1 Trade Paperback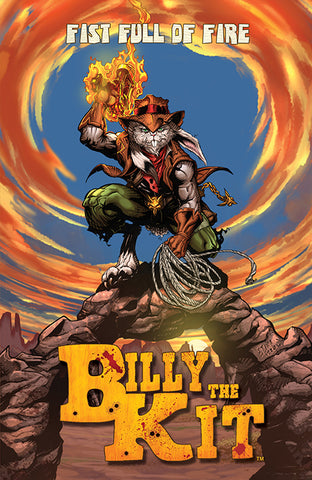 The Wild West has never been wilder! Introducing Volume 1 of Billy the Kit, a five-issue miniseries featuring a gunslinging rabbit seeking revenge against the Tornado God that killed his family. Why was this sickly, skinny rabbit spared such a gruesome fate? What makes him so special? With the help of Luther the Goat, a profanity-spewing martial arts master, Billy relies on faith, magical firearms, and Kung Fu to wage war against the pagan gods and monsters of a bygone era.
Co-created by Ringo Award-winning writer Justin Gray (Jonah Hex, Where We Live, Standstill) and artist Barry McClain Jr. (Anne Bonnie, Q-Ball), with digital paints by Slamet Mujiono (Flash Gordon, The Accelerators). Blue Juice Comics presents:Volume #1 of the darkly comedic and action-packed BILLY THE KIT.