Billy the Kit Issue #2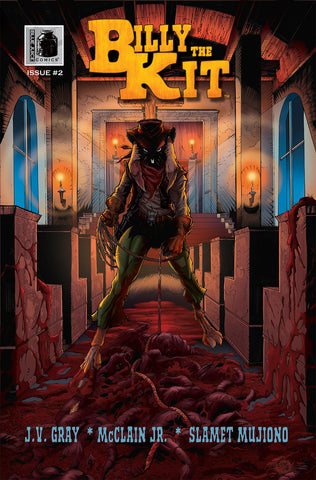 The saga of the Wild West's strangest and most unlikely hero continues as Billy is confronted by a dark vision of the tornado gods he must eventually face if he is to complete his quest for vengeance. However, to get there, Billy needs help -- a lot of help…and training from a very reluctant teacher. Does Billy have what it takes to realize his dream, or is he destined to meet a gruesome end at the hands of a seemingly endless horde of supernatural monsters?  
The Wild West has never been wilder! Billy the Kit, a five-issue monthly miniseries featuring a gunslinging rabbit seeking revenge against the Tornado God that killed his family. With the help of Luther the Goat, a profanity-spewing martial arts master, Billy relies on faith, magical firearms, and Kung Fu to wage war against the pagan gods and monsters of a bygone era.

Co-created by Ringo Award-winning writer Justin Gray (Jonah Hex, Where We Live, Standstill) and artist Barry McClain Jr. (Anne Bonnie, Q-Ball), with digital paints by Slamet Mujiono (Flash Gordon, Doctor Who, The Accelerators). Blue Juice Comics presents: Issue #2 of the darkly comedic and action-packed BILLY THE KIT.