Billy the Kit Issue #3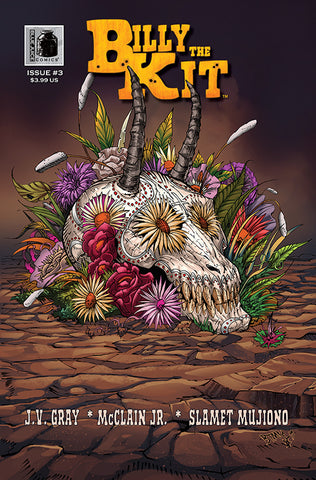 Tragedy strikes as Billy and Luther face a coven of newly resurrected witches with seemingly limitless power. If he is going to survive, Billy must tap into an ancient power he never knew he possessed and become one of the last Sunslingers, mystical warriors capable of wielding the fire of Prometheus.
The Wild West has never been wilder! Billy the Kit, a five-issue monthly miniseries featuring a gunslinging rabbit seeking revenge against the Tornado God that killed his family. With the help of Luther the Goat, a profanity-spewing martial arts master, Billy relies on faith, magical firearms, and Kung Fu to wage war against the pagan gods and monsters of a bygone era.

Co-created by Ringo Award-winning writer Justin Gray (Jonah Hex, Where We Live, Standstill) and artist Barry McClain Jr. (Anne Bonnie, Q-Ball), with digital paints by Slamet Mujiono (Flash Gordon, Doctor Who, The Accelerators). Blue Juice Comics presents: Issue #3 of the darkly comedic and action-packed BILLY THE KIT.