Billy the Kit Issue #5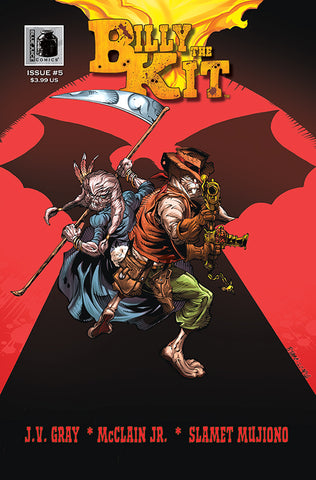 NOW AVAILABLE EARLY EXCLUSIVELY HERE...IN STORES FEBRUARY 9th, 20212

The action-packed and bloody conclusion to the first miniseries pits a wounded Billy and a seemingly feeble old woman against a bloodthirsty master vampire freed from his earthly grave. Is the power of Promethean fire strong enough to defeat a supernatural overlord in a battle beneath the Western desert? 

The Wild West has never been wilder! Billy the Kit, a five-issue monthly miniseries featuring a gunslinging rabbit seeking revenge against the Tornado God that killed his family. With the help of Luther the Goat, a profanity-spewing martial arts master, Billy relies on faith, magical firearms, and Kung Fu to wage war against the pagan gods and monsters of a bygone era.

Co-created by Ringo Award-winning writer Justin Gray (Jonah Hex, Where We Live, Standstill) and artist Barry McClain Jr. (Anne Bonnie, Q-Ball), with digital paints by Slamet Mujiono (Flash Gordon, Doctor Who, The Accelerators). Blue Juice Comics presents: Issue #4 of the darkly comedic and action-packed BILLY THE KIT.