Growing Dark by Kristopher Triana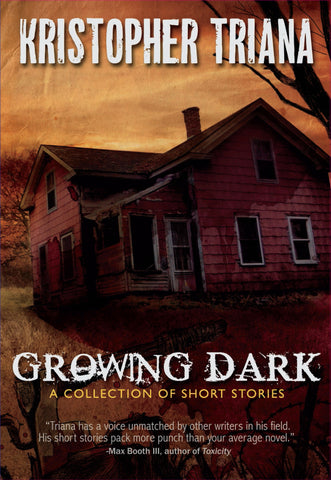 A MUST READ!!!!  -Rue Morgue
A small town is ruined by black rain, and two police officers find themselves face to face with the creatures lurking in the flooded streets. In the wild west, and aging gunslinger returns to his favorite brothel, only to encounter a fathomless black tar that's devouring everyone within. Paramedics find a remedy for a zombie virus outbreak – but can the survivors come to terms with their cannibalism? Former high school sweethearts reconnect for the anniversary of a murder. A young boy finds his family farm corroded by an evil that threatens to destroy his parents. Two deceased cowboy movie legends come back as avenging angels, tracking demons through haunted canyons. 
These stories and more fill Growing Dark, a collection of Kristopher Triana's darkest short stories. A macabre collection of lurking dread and bloodcurdling terror, ranging from otherworldly evils to very human nightmares, this powerful collection is sure to keep you sleeping with the lights on.
Also available as a SIGNATURE SERIES signed by author Kristopher Triana!!